The leaves are falling early – earlier this year than I can remember for some time – but nothing should surprise us after the extraordinary experience we've been through since normal service was interrupted in Lent.
One of the effects of that has been to change our perception of time. In spite of having a much emptier diary than usual, the weeks and months have just raced by for me. I don't why this should be, perhaps it's just getting older? Or maybe it has something to do with the year's punctuation going awry? We missed Palm Sunday and Holy Week and Easter and Pentecost and Trinity and although we're back in church, it is in such a straitened form that the ceremonies and especially hymns of the season are unperformed and unsung.
You might think that would slow things right down, the undifferentiated days and weeks; and I have had one or two afternoons in the garden when I have done nothing, just looked at the birds and the bees, and the roses blooming, and the dogs sleeping, and I cannot remember the last time I was able to do that. It did me some good, I think.
And of course like everyone else, when I think about it, I haven't done nothing, I've done different things. Thought, and written, and zoomed, and walked the dogs, and talked to people, and learned the accordion, and lost more than a stone in weight, and continued to pray, as I have always done, morning and evening, and celebrated the Eucharist, remotely, or privately, and conducted funerals.
This month our first weddings will happen, the schools go back and I hope, after the exam results fiasco is sorted out, something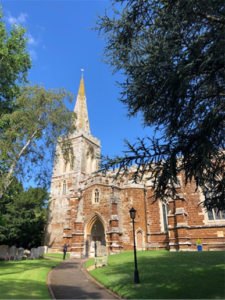 like normal service will be resumed; but it will be different, I think, not only because the pandemic is not yet behind us, but because we will be different, changed by the experience of this extraordinary year, and it will take time to work out how.
Whatever transpires, it will be offered to God by the Church. That never changes, and our job never changes, through thick and thin to continue to pray, to celebrate, to worship.
Yours in Christ,
Fr Richard,