In addition to the gymnasium, there were other recreation facilities, available to members, within the Institute. These comprised of a large billiard room which probably occupied the whole of the upstairs in this building, and was off limits to any user of the facilities who was under 18 years. There was also a games room that was available for all members, either through their full membership or if younger on an admission fee of 2 shillings per quarter.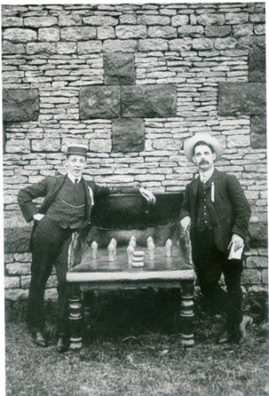 Although it is not possible to be exact on everything that was available in this room there was known to be a small billiard table; bagatelle; puff* and dart board; skittle table (presumably Northants skittles) and draught board. "Ping Pong" was not introduced until about 1905.
Along with the football club the games room was an attraction for youngsters who, it was hoped, would eventually become full members.
The upstairs of the Institute being totally devoted to billiards was popular with the adult members. Such that in 1889 The Trustees  and members decided that they would hold a Billiards Handicap with 3 prizes of a timepiece, 1 years membership and a half year membership and an entrance fee of 3d. This remained an annual event for many years and the popularity of billiards had an enduring impact on the social life of Finedon. Such that the Wellingborough News many years later in 1922 reporting on a billiards championship newly instigated by the Allen Rd Club said "Since the palmy days of the Star, Finedon has never lacked billiard players, and several trophies have come to the town in recent years."
In March 1892, as interest in the gymnasium seemed to be waning the Annual General Meeting of members began to look at other possible attractions. A draughts and whist club was debated with the idea that it would be funded by an extra fee, and under 18s would not be allowed access. It was felt there were two difficulties with this proposal. Firstly as to the card playing, games involving gambling needed to be avoided, and it was proposed that the members committee should be recruited to police this. Secondly it would require a separate room and that needed to be looked into. A decision was therefore deferred to the next meeting.
By October 1892 any problems regarding the card room had been resolved. It was agreed that this would go ahead, but no one under 18 would be admitted and that an extra charge of 3 pence per quarter to each member would be made. Indications are that the card room remained part of the facilities for some period. However whispers of gambling within the Institute were circulating in Finedon. On May 13th 1898 it was reported to the Trustees that a letter had been received from the Secretary at the Band Club stating that he "could hear several members of the Star Hall say there is a deal more gambling carried on at the Star than any of the clubs in Finedon." The Trustees Secretary was instructed to write immediately to the Band Club Secretary to "kindly inform us who the members were by whom this statement was made, so that the matter may be fully investigated by the Trustees and steps taken to remedy the evil".
No reply to this letter is recorded in Trustees minutes, and there is no record of any action being taken against any members for being involved in gambling on the premises. The rumours seem to have been "fake news". Yet the spectre of gambling arose again on 4th November 1902. This time the Manager reported that he had reason to believe that the boys who played at skittles gambled occasionally. He (The Manager) was instructed to keep a sharp look out, and if he found any one gambling to expel him immediately. As again nothing further is reported in the Minutes it seems that if any gambling had taken place the boys were wise enough not to do it again with the prospect of expulsion hanging over them.
Next month the Trustees have to address another issue that those involved in temperance considered to be another of the evils in society.
*this may have been a puff billiards board.