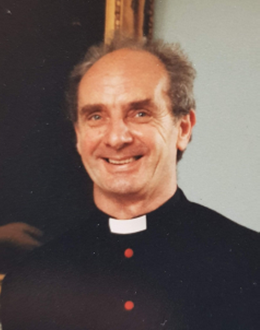 John was always modest and understating of the difference that he made to so many people's lives.  The outpouring of sentiments upon the news of his passing tells its own story of the value in which so many people held John.  He never sought self-advancement and was surprised, and perhaps inwardly chuffed, when he was appointed as a Canon of Peterborough in 1981.  Perhaps this was recognition of him as a strong and faithful servant.  After many happy years in Finedon, John retired in October 1996.  Many people came to John's final service at St. Mary's then, and a full peal was rung on the church bells.  It was poignant, celebratory, moving; a privilege to be there.
John and Alison moved to Oundle when he retired where he made many new friends.  He celebrated communion at several local churches and was an active member of the community.  He was especially attached to Glapthorn church and congregation.
John and Alison celebrated their diamond wedding anniversary in June 2019, the occasion being marked with a telegram from the Queen, and a fish and chip lunch washed down with champagne.  Alison survives him; they were utterly devoted to each other.  John was a dedicated father to Kate and Andrew.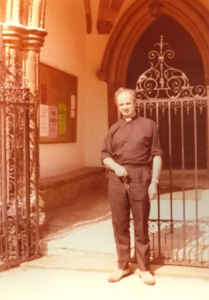 Reverend Richard Coles and Canon Stephen Webster look forward to leading a memorial service at some future date.  We will then be able to share our memories as we give thanks for his life.  He was a wonderfully loyal husband, parent, inspiration, leader, shepherd, friend and counsel to us; always guided by his absolute faith.
May he rest in peace.
Kate and Andrew Beaumont